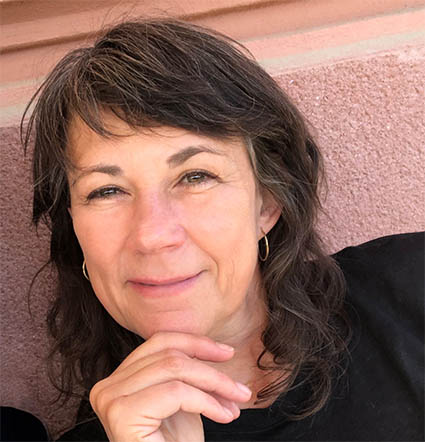 Seraphina Lenz studied sculpture at the University of Fine Arts Münster, and since 2001, she has been developing exhibitions at home and abroad. Together with five other artists, she operates the project facility oqbo |raum für bild wort und ton in Berlin. Lenz has received numerous awards and scholarships for her art works: 2021 Artist in Residence, P1 mobile Studio, Tenthaus, Norway; 2015 ARIO Residency, Odawara, Japan; 2002 to 2014 first prize and realisation in the art competition for the Carl Weder Park, Berlin.
From 2019 to 2020, Lenz had a teaching assignment at the College of Fine Arts (UDK) Berlin, and also in 2019, she worked as a teaching artist at Bern University of the Arts (HKB) in Switzerland. From 2011 to 2013, she was a lecturer at the Institute for Art in Context at the UDK Berlin. Previously, in 2010, she had been a teaching artist at Carl von Ossietzky University of Oldenburg and had worked from 2001 to 2005 as an artist in the research project Cultural Education in the Media Age of the Federal and State Commission for Educational Planning and Research Promotion (BLK). In 2000, she held a visiting lectureship at Yokohama National University in Japan.
What is your professional focus?
My artistic work originates from sculpting. In the 2000s, interest focused on creating urban spaces. The town is the stage and venue for societal topics. It becomes an object of research and an experiential space in which different living environments meet and in which historical dimensions, architecture and consumption act upon perception and behaviour. It is important for me to conceive projects on a long-term basis in order to be able to develop specific forms of cooperation with residents. Various teaching activities in the context of schools and higher education form a further focus of my activities. Links emerge between both areas.
What potentials do you see in the certificate course "Artistic Interventions in Cultural Education" for your specialist field?
With the diversifying field of art, processes of art communication and definitions of Cultural Education change simultaneously. Concepts emerge the meaning of which may be altered depending on the context. For example, what does intervention mean – here, today, and in this context?
Whereas the debates on art and education in the 1990s were characterised by comparatively static and easy to distinguish positions, a new fluidity appears to prevail in 2021.
In my opinion, the course offers the opportunity for the participants to gain a common understanding of concepts and, being aware of different possible positions, work out an artistic attitude of their own. This can provide a basis for developing the field of work of Cultural Education setting out from art.
Which changes are needed at cultural policy or education policy level to strengthen the potentials of cooperation with artists for Cultural Education in Germany?
With reference to the previous answer, I would like to turn the question into six queries. What is the cultural policy level? What is the education policy level? Which potentials are meant? What does strong cooperation feature? What definition of Cultural Education should one set out from? And what concept of art or professional profile of artists is relevant? I would be interested in reaching an understanding of these issues during the weekend course in Wolfenbüttel.
Seraphina Lenz at "Artistic Interventions in Cultural Education"
Seraphina Lenz is taking part in the course framework as a lecturer in Module 1: "Potentials of art for cultural education processes".
For details, see: https://kuenstlerische-interventionen.de/team/.
If you have any queries or are interested in cooperating, you are welcome to contact zertifikatskurs [at] uni-hildesheim [dot] de