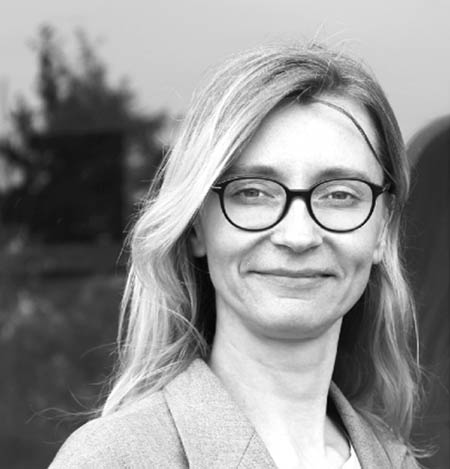 Magdalena von Rudy is a freelance artist who concentrates on video art. She studied at "Kunstakademie Düsseldorf", under Professor Anthony Cragg. Since 2001, in parallel to her artistic activities, she has been working in the field of Cultural Education. From 2016 to 2018, she was an Artist in Residence in the project "Kunstlabore" (art laboratories) run by MUTIK gGmbH, the Mercator Foundation, Alanus University of Arts and Social Sciences and the University of Applied Sciences and Arts Northwestern Switzerland. Previously, she was Visiting Professor at Wladyslaw-Strzemiński Art Academy in Lodz (Poland) and had teaching assignments at the University of Wuppertal and Hochschule Düsseldorf – University of Applied Sciences. Among other distinctions she has earned, she is winner of the 12th Marl Video Art Prize and a Fellow of the "Film- und Medienstiftung NRW" and the "Kunststiftung NRW".
What is your professional focus?
My professional focus is on the field of video art, and in parallel the field of art and Cultural Education with an emphasis on inter-mediality.
What potentials do you see in the certificate course "Artistic Interventions in Cultural Education" for your specialist field?
One of the biggest potentials is to create a network of participants throughout Germany and the collaborative schemes and mutual inspiration which this can generate. The chance to run a practical project at this year's DOKUMENTA is another great opportunity for the participants. The certificate course enables the honing, strengthening and reflecting of one's own artistic and pedagogical positions in the field of Cultural Education.
Which changes are needed at cultural policy or education policy level to strengthen the potentials of cooperation with artists for Cultural Education in Germany?
In order to strengthen the potential of cooperation, we need low-threshold access to financial support; boosting process-oriented, participatory work which seeks to be open-minded regarding final outcomes. Viewed from a structural angle, it would be necessary to consider the living conditions of freelance artists. One important factor is the remuneration of the entire time effort, including preparations, travel time, etc.
Magdalena von Rudy at "Artistic Interventions in Cultural Education"
Magdalena von Rudy is taking part in the course framework as a lecturer in Module 4: "Cultural Education in school contexts". Furthermore, Magdalena von Rudy, together with Nicole Berner, is also represented in the certificate course as a project partner with KLAUS – Kunstlabor an und mit Schulen. If you have any queries or are interested in cooperating, you are welcome to contact zertifikatskurs [at] uni-hildesheim [dot] de