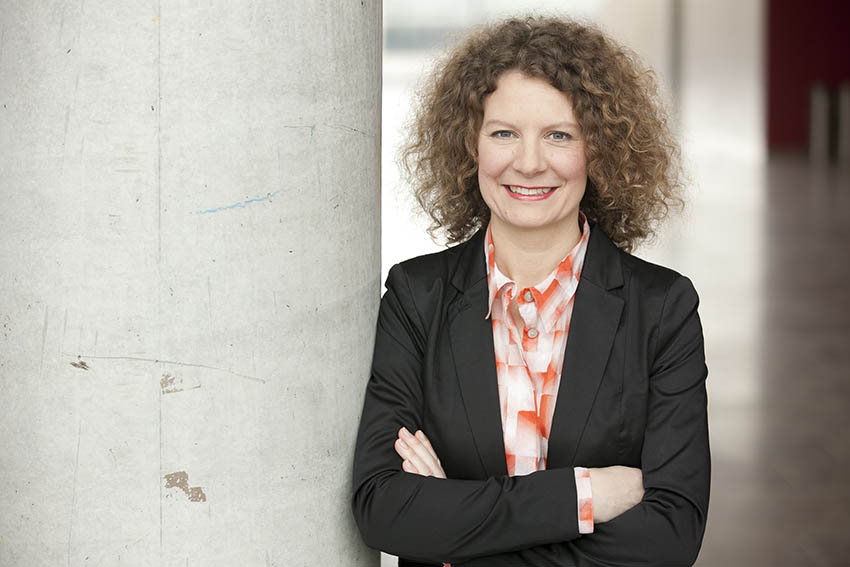 Friederike Schönhuth studied visual communication and sculpture in Offenbach as well as art history and sociology at Johann Wolfgang Goethe University in Frankfurt/Main. She was a consultant on visual arts and curator of the "ars viva" award at the Association of Arts and Culture of the German Economy at the Federation of German Industry, reg. Ass. in the BDI and headed Cultural Education at the Stiftung Kunst und Natur. She has been with the Crespo Foundation for five years, where, as head of the field of "Aesthetic Education and Art", she is now responsible for the funding, development and expansion of the existing programmes in her field.
What is your professional focus?
As a graduated artist, art historian and sociologist, with my expertise as head of the field of "Aesthetic Education and Art" at the Crespo Foundation, I above all regard developing new formats which in particular also always promote and integrate the contemporary arts and artists at the inter-professional interface with Cultural Education as one of my focal activities today.
What potentials do you see in the certificate course "Artistic Interventions in Cultural Education" for your specialist field?
Above all with its programme "Das Fliegende Künstlerzimmer", the Crespo Foundation seeks to support artists at the interface between art and Cultural Education and strengthen them in their professionality. The expertise this involves is to benefit the certificate course – which in turn is to benefit the artists. In addition, we look forward to the prospect of enhancing recognition and visibility of artists in Cultural Education with "Das Fliegende Künstlerzimmer" as a further education venue for the certificate course in Hesse in future.
Which changes are needed at cultural policy or education policy level to strengthen the potentials of cooperation with artists for Cultural Education in Germany?
The expertise of artists has to be more strongly integrated in the concepts, framework conditions and remuneration of formats for Cultural Education in order to further appreciate and promote the work of artists in this field. So far, they have all too often been the last link in the chain in collaborative schemes. This causes considerable losses in terms of skills and professionality, assets which actually do already exist but so far have not been sufficiently put to use. The "Artistic Interventions" are a further step in the direction of strengthening the interprofessionality of artists.
Friederike Schönhuth at "Artistic Interventions in Cultural Education"
Friederike Schönhuth is taking part in the course framework as a lecturer in Module 1: "Potentials of art for cultural education processes". Furthermore, Friederike Schönhuth represents the Crespo Foundation as one of the project partners accompanying the pilot project. For details, see: https://kuenstlerische-interventionen.de/projektpartner/crespo-foundation/.
If you have any queries or are interested in cooperating, you are welcome to contact zertifikatskurs [at] uni-hildesheim [dot] de.