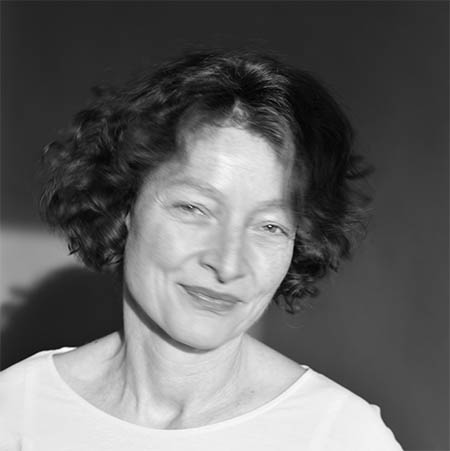 Ursula Rogg studied free art and art pedagogics in Munich and London. She then worked as a freelance photographic artist and performer in a women's collective. Furthermore, for ten years, she ws a teacher at so-called hotspot schools in Berlin, a topic she wrote an essay about which drew much attention. In parallel to this, the "KontextSchule" evolved – a practice and discourse laboratory for teachers and artists. A pilot project for schools in regions with poor infrastructure in Brandenburg in which aesthetic learning strategies were implemented in all subjects formed the research framework for her PhD thesis at the "Bauhaus Universität Weimar". Since 2021, as a professor, Ursula Rogg has headed a class for lateral recruits at the Munich Academy of Fine Arts.
What is your professional focus?
As an artist and author, I set out in my texts, photos, performances and radio plays from documentary records. Here, I focus on two fields: aesthetic practices and traditions in peripheral areas and materialist and atmospheric conditions of learning and teaching at schools. In processing and mounting the material, I work out certain perspectives of reality, highlighting their kaleidoscopic diversity; here, universal aspects are just as important to me as the poetic dimension.
As a pedagogue and mediator I develop – often and with pleasure together with others – scenarios, scores and material for interventions and aesthetic activities in an educational context, concentrating in particular on the mutual links between theory and practice.
What potentials do you see in the certificate course "Artistic Interventions in Cultural Education" for your specialist field?
Understood as everyday life research and comprehensive educational practice, Cultural Education places the lifeworld of the child or other addressees centre stage. Here, it is particularly important to view the aesthetic languages of a society as part of a process of permanent transition and explore them with regard to their medial and formal as well as social and hegemonial content.
In this context, art often represents a "special case". It frequently addresses what is outside everyday life, what is in its interior, and perhaps also what seems bizarre, and again and again generates different questions, manifestations and statements. In educational contexts, its properties both of ambiguity while achieving a high level of concreteness and of sensuality and physicality while keeping at a large distance continue to be focused on too little, despite their accounting for an essential aspect of human existence. The work of artists at schools opens up opportunities for common productivity and relevant search activities the success of which lies in finding what one was previously not looking for.
My aim is to make artists taking part aware of the skills and potentials they are already bringing along from their own artistic activities. I explain the dimension which two questions can assume in artistic mediation work. Why and what for lead to such a wealth of questions and possible answers that the basis these provide is sufficient to address contemporary artistic learning and teaching practice. So things aren't really that difficult – and at the same time, regarding an understanding of education processes as "science fiction", the task assumes enormous dimensions.
Ursula Rogg at "Artistic Interventions in Cultural Education"
Ursula Rogg is taking part in the course framework as a lecturer in Module 4: "Cultural Education in school contexts". If you have any queries or are interested in cooperating, you are welcome to contact zertifikatskurs [at] uni-hildesheim [dot] de.