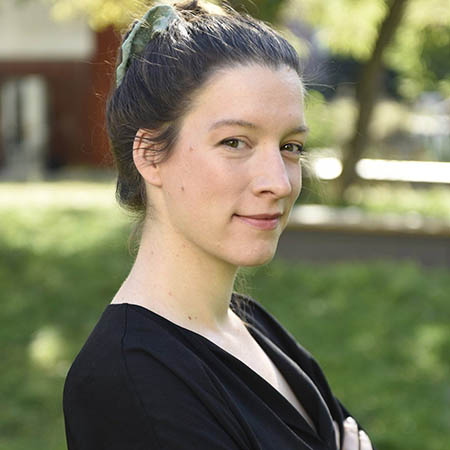 Sophia Pompéry (*1984, artist) supports other creative individuals in strengthening their aplomb in their careers, based on her own practical experience. She studied sculpture under Karin Sander and Antje Majewski at Weißensee School of Art and Design in Berlin and under Olafur Eliasson at the Institute for Spatial Experiments at Berlin University of the Arts. Venues her work has been presented at include the Stedelijk Museum, Marta Herford, the Museum of Contemporary Art Tokyo, the New National Galerie Berlin, the Nassauischer Kunstverein Wiesbaden and Hamburger Bahnhof Berlin. In addition to her activities as an artist, which recently brought her as a Berlin Art Academy Fellow to the Villa Serpentara near Rome, she has been a regular member of juries and lectures at a wide range of institutions. From 2017 to 2021, she directed the See-up Programme on creative and entrepreneurial qualification at Weißensee School of Art and Design in Berlin, where she continues to teach.
What is your professional focus?
Since I am both a lecturer and an artist, I have two focal professional areas. As a lecturer, I question things and talk about them. If the "society of control" (Gilles Deleuze) is to turn into a civil society of sovereign actors, I feel there is an urgent need to discuss artistic "attitude". What are the conditions our activities are based on, and how can we realise freedom? In order to reflect upon this, one has to strip things of their commonness. Measuring the world is based on conventions, and it is up to us to either accept or reject the tools for this purpose – or to handle it in an entirely different way.
As an artist, I transform what is believed to be familiar, such as everyday objects and measuring instruments, into parables at the interface of art, physics and philosophy.
Yardsticks have different lengths, whereas the photographic bulb exposure of a children's globe reduces everything to zero and shines white. How many metres more of the sea are two degrees Celsius? Establishing the epochal impact of the climate crisis from a subjective perspective may be existential, but it is virtually impossible. Capturing this fragility of human scales is what I aim for.
What potentials do you see in the certificate course "Artistic Interventions in Cultural Education" for your specialist field?
The certificate course contributes to enabling the practicing of art to have a greater impact on the world. Multifaceted, open learning environments are created with it which provide interdisciplinary exchange forums and generate unexpected ideas. This type of Cultural Education creates fertile ground for synergies and intermeshing among various disciplines at a very personal level.
Which changes are needed at cultural policy or education policy level to strengthen the potentials of cooperation with artists for Cultural Education in Germany?
The insight is needed that the greatest natural resource which this country can supply is in the heads of school pupils, and that this treasure needs to be tended. The distribution of power, the climate crisis, structural weakness of public institutions, digitalisation, etc. – at several levels, society is changing, and the future is marked by uncertainty. The future reality will then be different from what has been planned – rendering one's studies obsolescent. The only answer to this field of tension is flexibility, inquisitiveness and openness – fields in which artists can offer special expertise.
Sophia Pompéry at "Artistic Interventions in Cultural Education"
Sophia Pompéry is participating as a lecturer in the context of the course in Module 5: "Culture Management for Creators of Art in Cultural Education". If you have any questions or are interested in working with her, please go to zertifikatskurs [at] uni-hildesheim [dot] de