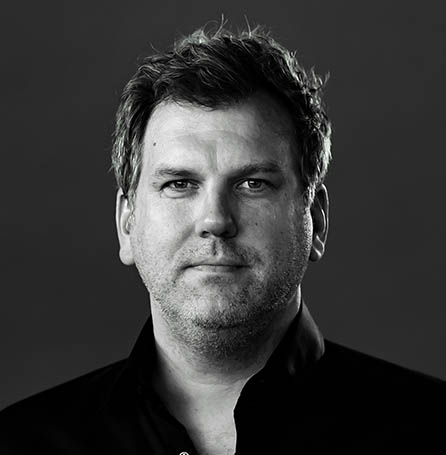 Prof Dr Frank Jebe (*1973) is an artist and education scientist as well as a Professor of Art and Intercultural Communication at Hochschule Niederrhein University of Applied Sciences. Prior to that, he dealt with the publications and studies of the Committee of Experts as an academic consultant at the Office of the Council for Cultural Education. From 2008 to 2013, as a freelance project manager of the Düsseldorf Office of Cultural Affairs, he was responsible for child day-care facilities, primary and secondary schools as well as youth camp facilities. The cooperation projects featured programmes testing artistic concepts related to social spaces. From 1996 to 2003, Jebe studied at the Kunstakademie Düsseldorf. From 2009 to 2012, he studied education science at the University of Duisburg-Essen.
What is your professional focus?
With art and art communication, different foci play a role when I teach at Hochschule Niederrhein. Here, Cultural Education in early childhood, artistic rehearsal, the forms of action in communicating culture, project management in the cultural sector and the cultural dimension of digitality are predominant elements. In the lectures on artistic rehearsal, my biographical relations to fine art play a particularly crucial role. Regarding my research interest, my focus is on the interfaces between culture and school which are relevant to education. In addition to the question of how input from artists in the sense of the liberal arts is entering schools, to me, issues regarding education policy expectations of art or regarding the education potentials for communicating culture, all of which has to be researched in the course of digitisation, appear to be of importance.
What potentials do you see in the certificate course "Artistic Interventions in Cultural Education" for your specialist field?
The professionalisation of this field certainly bears a great potential. To me, however, the central keyword is "visibility". The certificate course holds the potential to bring an activity field to the fore for artists which is hardly focused on in the academies. If, beyond this, the important experiences which are entering schools with the art programmes can actually be visualised, a lot will have been gained.
Which changes are needed at cultural policy or education policy level to strengthen the potentials of cooperation with artists for Cultural Education in Germany?
It remains to be seen whether the certificate can succeed in structurally boosting the role of artists on the "free" education market. The imbalance in power between the solo freelancers and school as an institution seems rather too great to make this probable. To me, the step which has to be taken in education policy is that local authorities accept more responsibility in selecting and seconding extra-school providers of education services. The City of Düsseldorf has given a good example of how this can work with its "Düsseldorfer Modell".
Frank Jebe at "Artistic Interventions in Cultural Education"
Frank Jebe is taking part in the course framework as a lecturer in Module 2: "Theoretical concepts and discourses".
If you have any queries or are interested in cooperating, you are welcome to contact zertifikatskurs [at] uni-hildesheim [dot] de.