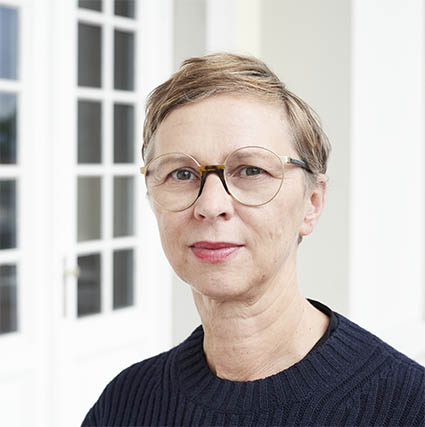 Susanne Hesse-Badibanga (*1963) studied fine art/art pedagogics in Kassel from 1992 to 1997. After a scholarship awarded by the Cultural Foundation of Hesse enabling a study stay in New York, she worked as an art communicator at the documenta 12 in Kassel and headed the workshop "Deutsch-Wissen" in cooperation with the documenta advisory Council. Hesse-Badibanga headed and designed a wide range of intercultural integration projects in Frankfurt am Main as well as the Frankfurter Kunstverein's communication project "Schulstudio" in cooperation with numerous schools in the region. She is a freelancer for the Kunsthalle Schirn in Frankfurt am Main. In addition, she has teaching assignments at the University of Art and Design Offenbach am Main and Johann Wolfgang Goethe University of Frankfurt am Main at the Institute of Art Pedagogics. At the documenta fifteen, she is heading the Education and Communication field.
What is your professional focus?
I am both an artist and an art communicator. In my work, the two areas overlap. For example, my task for the forthcoming documenta fifteen is to design the walks for the visitors. Conceiving and planning the walks is done in close coordination with the artistic direction, the Indonesian art collective ruangrupa and the Artistic Team. One further activity field of mine is planning and organising the training of the guides to prepare them for their work and communication with the visitors at the exhibition.
In exchange with universities and schools from international contexts, we deal with issues regarding contemporary formats of Cultural Education in transnational spaces. In the context of a current Curatorial Turn, art communication is being newly thought through, and new practical formats are being tried out.
What potentials do you see in the certificate course "Artistic Interventions in Cultural Education" for your specialist field?
Working with artists in Cultural Education fields is an important and indispensable element. Artists have access to artistic techniques, ways of thinking and action strategies which differ, for example, from those of art communicators or art pedagogues. A spontaneous glance when dealing with art gives young participants in particular a view of forms of understanding they are not familiar with and options for action which they have not expected.
In order for cooperation between artists and schools or another institution to be sustainably productive, it is just as helpful for artists to have a knowledge, for instance, of how an institution works, under which conditions teaching takes place as a rule, or how familiar models of Cultural Education are usually designed. In my opinion, a sensitive handling of the respective conditions, constellations and learning situations is an important prerequisite for designing a constructive (learning) atmosphere with a group.
Which changes are needed at cultural policy or education policy level to strengthen the potentials of cooperation with artists for Cultural Education in Germany?
Special funding structures are definitely required for any cooperation with artists which also support and enable preparation and follow-up activities. Artists ought to be more strongly involved in teaching contexts, especially in art lessons at schools.
Susanne Hesse-Badibanga at "Artistic Interventions in Cultural Education"
Susanne Hesse-Badibanga is taking part in the course framework as a lecturer in Module 1: "Potentials of art for cultural education processes". In addition, she is supporting interested scholarship-holders in developing their practical projects in the context of documenta 15. If you have any queries or are interested in cooperating, you are welcome to contact zertifikatskurs [at] uni-hildesheim [dot] de