LesArt Berliner Zentrum für Kinder- und Jugendliteratur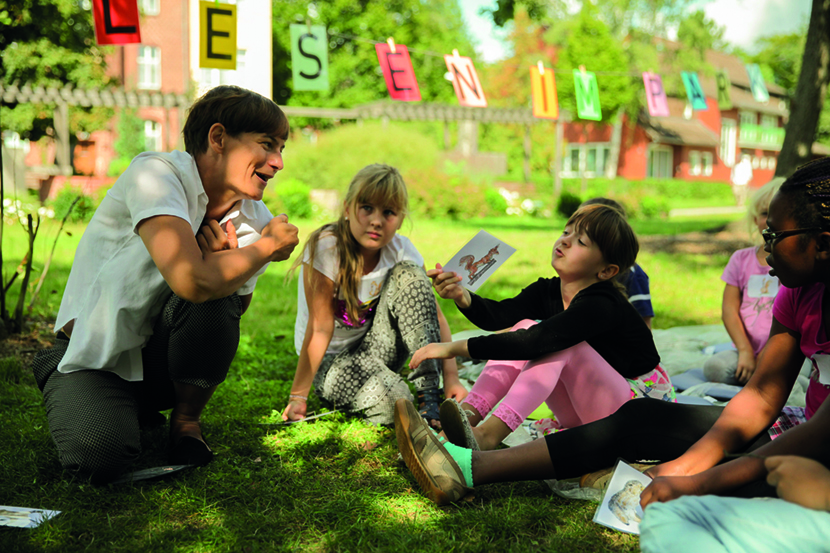 LesArt is a literature house for youth in Berlin and is unique in Europe. It develops inclusive, educational formats for literary events in order to awaken a curiosity for literature and language. Artistic approaches and methods are used to bring images and language to life for the senses in a variety of ways. Through the incorporation of other art disciplines and media, creative models are developed for literary, aesthetic education.
Art Lab for Literature
For the Art Lab for Literature, LesArt developed and broadened event concepts for use in the classroom with schools from Berlin, Bremen and Dresden. How do students develop an enjoyment of literature, language and thinking? LesArt demonstrates how children and young people can be taught to enjoy reading and how to encourage a culture of discussion and debate using various media and artistic approaches.
Our Focus
The certification course invites arts practitioners from a variety of disciplines to build on their qualifications. This creates synergies that can have lasting positive effects on the development of art education formats. These can be discussed, implemented and successfully multiplied within the LesArt network.
The objectives of the course and LesArt are identical: to guide and encourage children and teens to approach life with an open mind and to create an awareness of their own strengths.
Kathrin Buchmann holds a degree in speech science and is program director at LesArt, the Berlin center for children's and youth literature. Her work focuses on fostering an appreciation for literature, reading and language, developing diverse programs for literary and aesthetic education, teaching children's and youth literature to children, teens and adults – both analogue and digital –, collaborating with institutions in the field of literary and cultural education as well as planning and participation in the Art Lab for Literature project.
Sabine Mähne holds a degree in journalism and was the director of LesArt for 25 years. She currently works for the organizing body as a board member. Her work focuses on international and national collaborative partnerships in the areas of literature and reading promotion, development of concepts for sound and effective aesthetic-literary education as well as planning and participation in the realization of the Art Lab for Literature project.
For more information: https://www.lesart.org