Christophe Ndabananiye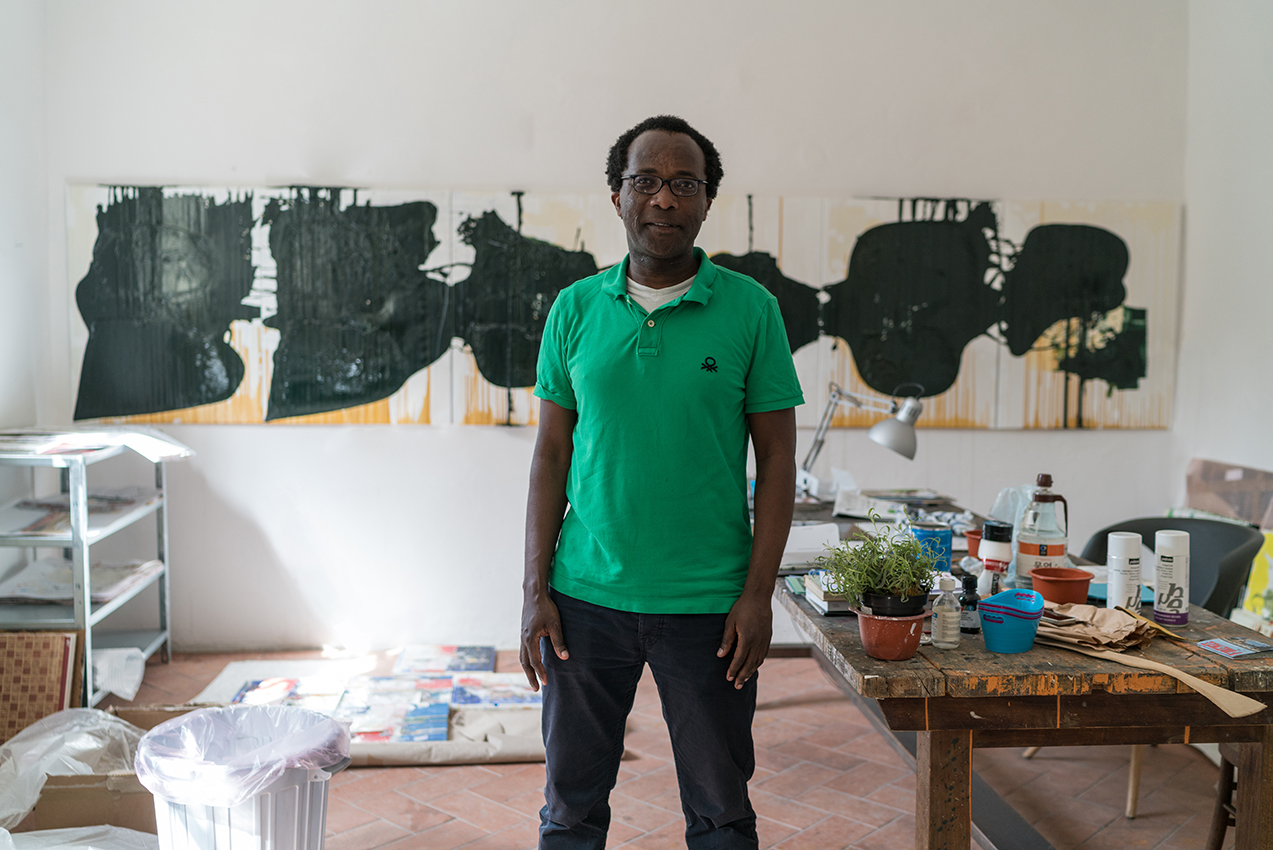 Christophe Ndabananiye was born in 1977 as the son of Rwandan parents in Lubumbashi in the Democratic Republic of Congo. At the age of nine years, he moved to Rwanda with his family. Already at the age of twelve years, he was working as a sign painter, and from 1991 on, he attended the secondary school of art École d´Art de Nyundo in Rwanda. At the age of eighteen, he came to Germany. Having acquired an entrance qualification for a University of Applied Science (Fachhochschule), he studied free art at the "Hochschule der Bildenden Künste Saar" (HBKsaar) in Saarbrücken until 2008. He participated in a wide range of exhibitions at home and abroad, receiving, among others, the prestigious Villa Romana Prize in 2018 and, associated with it, a scholarship in Florence, as well as artist residencies in Baden-Baden and Cosenza. In addition, Ndabananiye worked at Free University Berlin as an academic assistant in the Department of African Art.
Which topic turns up again and again in your artistic activities?
Recollection, or Ukumbusho in Swahili, my first mother tongue, is of key importance in my work. Here, I take recourse to traces, both as a conceptual basis of my work and as material, which signal the condition of homelessness and destruction through the leaving behind of people and objects. I process biographical experiences of radical fear and loss, linked to uncertainty regarding the future. I prefer to use industrial gloss paint because of its destructive potential as a toxic paint and at the same time because of its functionality.
What do you seek to achieve with your cultural education activities?
I am above all interested in the discourse over works of art. In my cultural education work so far, for example with children in Masaka in Rwanda's capital province of Kigali or with students in Berlin, I experienced mutual inspiration. It promotes the common artistic process and teaches us the interesting experience of communication between creators of art and recipients, which we experience in day-to-day educational work.
What, in your view, is the essence of an artistic intervention in cultural education?
From theory to practice in the course, how cultural education takes up the interface between artistic activities, pedagogical work and culture management and also strengthens my own position as an artist is of great significance to me. A further important aspect for me is to strengthen collaboration with other branches of art, keeping in mind the challenge of digitisation in educational work.
Shoes – personal versus impersonal, 2011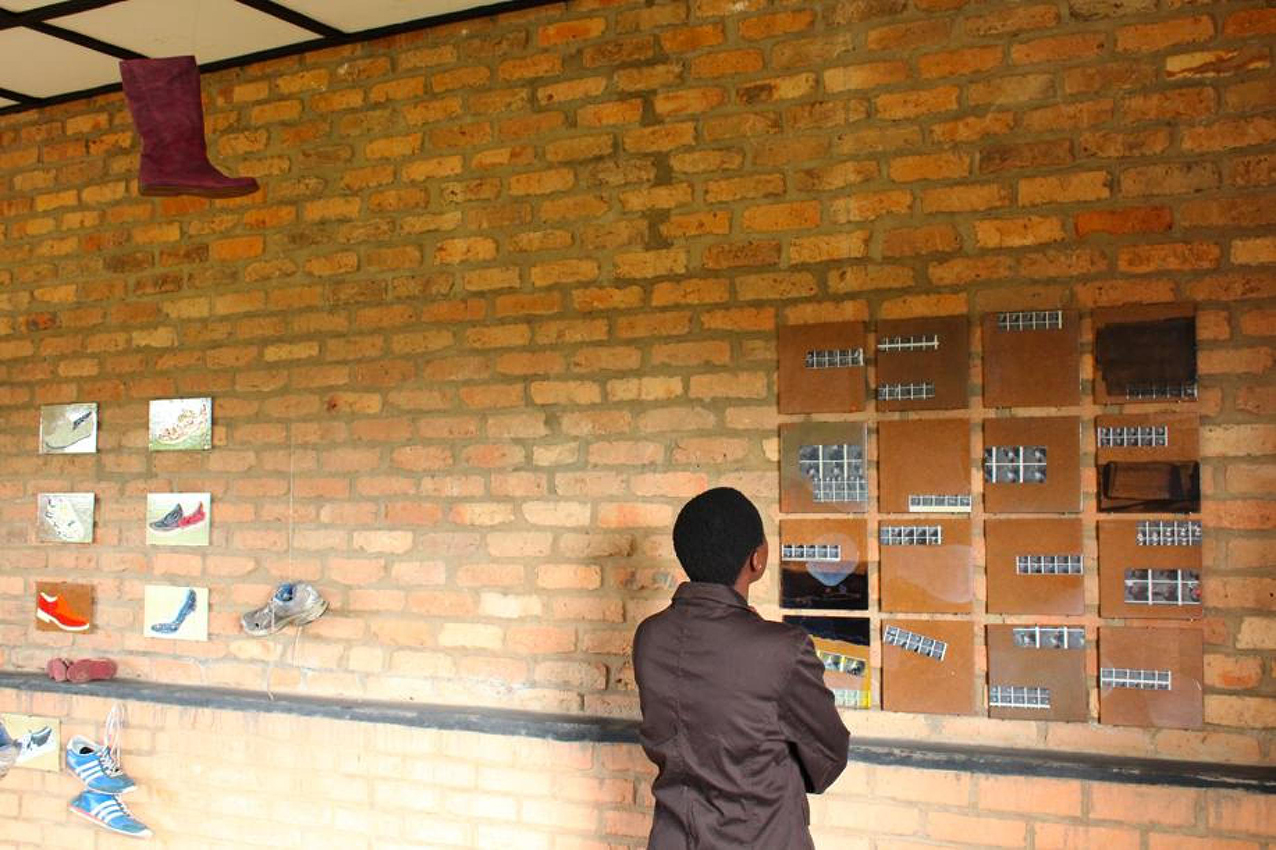 In 2011, I presented some of my work in the Traces Exhibition at the Centre de Formation Refuge Icyugamo in Masaka. The installative piece "Shoes – personal versus impersonal", which always causes irritation, could be viewed, as well as various series in glossy and acrylic paint, partly also involving collage techniques, on the topics of traces and routes.
In parallel to the exhibition, together with art historian Katja Vobiller, I organised a workshop for children which was aimed at teaching them the basics of design. Here too, the topic of "traces" was a common thread in the workshops, in which the children discovered their artistic talent and experimented with lead and colour pencils, paintbrushes and paintboxes, crayons and scissors. After the workshop, the children had the opportunity to present their works of art.
What have you taken home from this project for your artistic activities?
For me, cultural education in the context of communicating with the children was an important experience, for here, as had been the case in my career as an artist up to then, the topic of identity played a major role.