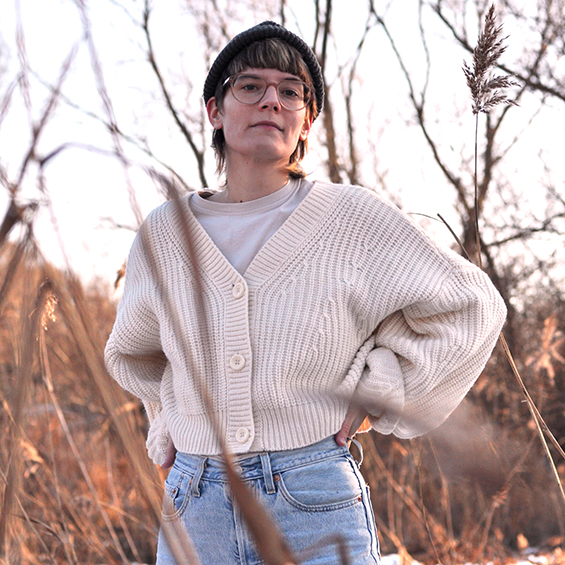 Svenja Gräfen, born in 1990, lives in Leipzig. She is a writer and creates prose, essays and scripts. She recently published her first non-fictional book "Radikale Selbstfürsorge jetzt. Eine feministische Perspektive" (radical self-help now – a feministic perspective. Eden Books). In 2019, with "Freiraum" (free space. Ullstein), her second novel appeared, and in 2017, with "Das Rauschen in unseren Köpfen" (the murmur in our heads. Ullstein), her literary debut followed. In addition, she has published material in a wide range of anthologies, literature journals and magazines. Her writing has already earned her numerous scholarships. From 2012 to 2016, she studied cultural and media education with a focus on literature, drama, film and digital media, and since 2013, she has been running courses and workshops on Creative Writing.
Which topic turns up again and again in your artistic activities?
On the one hand, there is the issue of confronting one's self: my own identity and perspective, its inherent privileges as well as experiences of discrimination. On the other, what particularly interests me in my prose is the psychosocial, interpersonal relationships and (power) dynamics, also against the background of societal structures and formative processes. In addition, for me, improvisation is not merely a recurrent topic but also provides access to writing and to language.
What do you seek to achieve with your cultural education activities?
I want to sharpen awareness of language not merely being a means to an end but something that also has to do with power. Words and stories hold power, and who utters or tells them also plays a role, as does whoever receives them. Here, regarding the development of identity as part of cultural education activities, I see a considerable potential for self-reflexion and self-empowerment. Since the research for the latest book I had published, there has been no question that the topic of self-care also plays a role: art and culture not as a luxury item but as part of self-caring practice.
What, in your view, is the essence of an artistic intervention in cultural education?
Less theory and more practice. For me, accessibility and making things accessible plays a central role. Approachable art and culture which can be experienced and lived by people with the most different backgrounds. So, in my case, approaching language and literature via my own writing, my own expressiveness, my own textual definition. Pausing for a moment and questioning, opening up new perspectives through one's own experience — and new experience based on trying out, experimenting and improvising. These experiences have always also shaped my own approach to artistry.
Project ID – idea & identity, 2015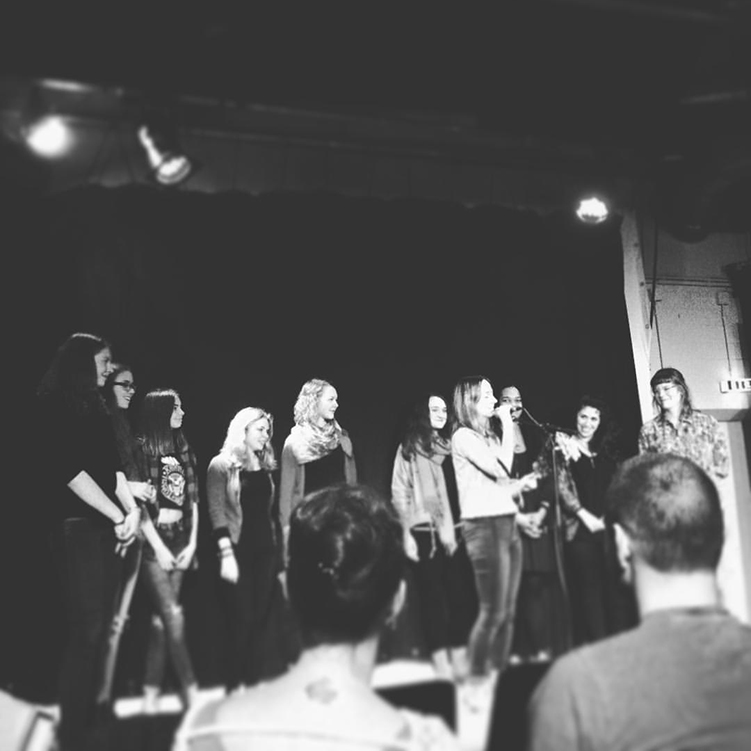 The "Projekt ID – Idee & Identität" (idea and identity), run in cooperation with zakk Düsseldorf in 2015, was a several-week-long writing workshop for girls and young women. Its aim was to create a protected space in which they could focus on themselves and on different forms of text and, setting out from this, discover approaches to writing. We discussed feminism and sexism in literature as well as how one's own identity and perspective influence writing. During the preparation of the text presentation on the reading stage, we dealt with elements of drama and voice training and worked together with an actress on stage performance training.
What have you taken home from this project for your artistic activities?
Just like in all my other projects, I learnt quite a lot in this one, too. Eye-level is important to me – I believe that the relationship between the course director and the participants should not be a one-way street. We all learnt from one another in Projekt ID and benefited from the experience. And I was shown once again by the project what a considerable and crucial role both communicating via art and culture and the mutual networking of artists plays – especially among those who continue to be underrepresented in literature: for example, women, non-binary and queer people.