Module 3: Digital Methods
The third module of "Artistic Interventions in Cultural Education" was held from the 10.12.2021 to the 11.12.2021. Owing to the current COVID-19 situation, the Module was transferred to digital space. At least at content level, the format takes up one of the key issues: "How can digital methods enrich activities in Cultural Education?"
But what does a module actually look like in a digital environment? The following blog entry presents three of our strategies for successful digital seminars:
Aesthetic practice units
Just like in an analogue space, we started off the individual days of the Module with small aesthetic practice units. For example, on Saturday morning, Lisa Haucke (link) headed a digital body workshop in order to promote a little physical variety in front of the PC. On Friday, our fellow Lucia Matzke started off with a 15-minute dancing unit incorporating both the body and the private environment of one's own home. Exercises such as "Dance a Fork" liven up both the atmosphere and one's own body and work wonders in a digital environment.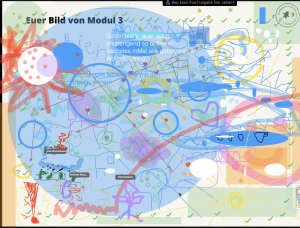 Digital Art
Video conference portals such as Zoom or BBB offer a wide range of opportunities for creative participation. For example, we were able to use the drawing tool in a split display in order to create a little artistic intervention together.
GatherTown
Despite group activities via breakout sessions, informal chats taking place in the presence of one another cannot be fully implemented in digital space. Additional time slots have to be created in the programme for talks of this nature. Towards the end of our Module, on the platform GatherTown, we set up a communication room. GatherTown is a free-of-charge tool with which real environments can be digitally modelled and where people can get together. In our case, the informal chats took place in a digitally modelled Federal Academy.