That was Module 2: Theoretical concepts and discourses
From the 05.11.-07.11.2021, the second Module of "Artistic Interventions in Cultural Education" took place at the Federal Academy for Cultural Education in Wolfenbüttel. For the 33 participants, there were inputs for various discourses on how mediation activities can be designed. Discussions were initiated in Wolfenbüttel on the topics of diversity, mediation at school and the processual aspect of artistic work.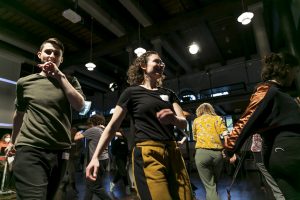 Various perspectives were opened in order to be able to link them or also delimit them from one another on site. One special feature of Module 2 was an introduction to the Module "Train the Trainer" on the Sunday (07.11.). This consolidation module offers the opportunity to pass on the skills one has acquired in the context of the certificate course as a lecturer or instructor.
Here, it was a special objective of Module 2 to provide the participants with the possibility to transfer their artistic and mediatory activities to contemporary theories and discourses. Which theoretical approaches and discourses can shape and inspire artistic activities in Cultural Education? How much participation is possible in artistic work with social groups? In what manner can artistic projects contribute to mobilise for sustainable action?
These are just a few of the questions discussed in Module 2. You can get to know the Module lecturers here.