Emese Bodolay – Project
New Cologne – how many megabyte?!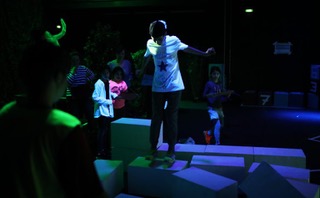 "New Cologne – how many megabyte?!" was a live jump and run which I realised together with eight youths (12 to 14 years) at the "Theater an der Parkaue" (Berlin) in the context of an Easter holiday workshop. I provided the framework for the play, which the participants had to fill under my supervision: together, we invented the world in which the play was performed and built the corresponding storyline. The participants were actively involved in creating the stage setting and developing the puzzles. In implementing the concept, they took turns performing the different roles.
What have you taken home from this project for your artistic activities?
Performing Playstation with young people and talking to them is more important than working out a perfect script on your own.