Module 4: Cultural Education in School Contexts
Following three exciting modules on the focal topics of "Potentials of Art", "Theoretical Concepts and Discourses" and "Strategies and Practice Formats", Module 4 starts on the 28.01.2022, giving impulses on "Cultural Education in School Contexts". What turns school into a cultural location? How can I sustainably contribute my expertise as an artist to schools?
This time, the pilot course "Artistic Interventions in Cultural Education" run by the University of Hildesheim's Department of Cultural Policy is not being held at the Federal Academy for Cultural Education in Wolfenbüttel. Owing to the current increase in the number of COVID-19 cases, the team have decided to also stage this Module in a digital format.
Among those invited to this Module are the partners in practice who will be presenting in-depth units in a digital environment.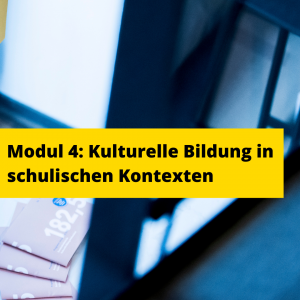 You can find more information on the Modules of the Certificate Course here.