That was Module 3 "Strategies and Practice Formats"
The third Module of Artistic Interventions in Cultural Education was held from the 10.12.2021 to the 11.12.2021. Owing to the current COVID-19 situation, the Module was transferred to a digital environment. At least at content level, the format fits in with one of the key questions: "How can digital methods enrich activities in Cultural Education?" For the 33 participants, there was nevertheless input on various practice formats as well as the opportunity to share one's own methods in art work in the context of Cultural Education with others. The general theme of Module 3 was "Strategies and Practice Formats". The lecturers, who also joined the weekend in digital form only, provided the fellows with exciting impulses relating to the theme.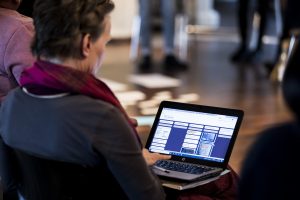 The Module was moderated by Pia Wagner, who is a cultural worker (BA) and cultural mediator (MA). Since March 2020, she has been working as an academic assistant at the University of Hildesheim Foundation's Department of Cultural Policy – initially in the field of international collaborative schemes and cooperation and in teaching, and since early 2021 as Project Manager of the Certificate Course "Artistic Interventions in Cultural Education".  Pia Wagner guided participants around the intensive programme. For example, input was provided by Professor Dr Mona Jas on art history (art stories) as an incentive to invent new mediating formats. Susanne Rehm lectured on Digital Methods in Cultural Education. However, one special feature was the first in-depth presentation of the partners from practice to be integrated in the Module.
An overview of all lecturers so far can be found here.